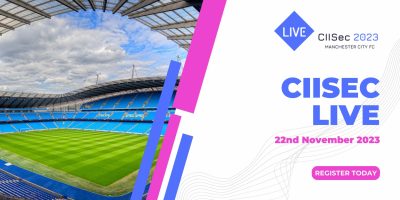 Event Details

We are delighted to announce that the Chartered Institute of Information Security (CIISEC)'s flagship event CIISEC LIVE will be held as physical event in Manchester in November 2023.

We are committed to making our events accessible to delegates and members wishing to join us, and so this will be the first time CIISEC LIVE will be held in Manchester. The premium location will provide delegates and exhibitors alike with many opportunities to develop new connections across the community.

This year the event will take on the overarching thematic of 'inspiring innovation and developing the next generation of cybersecurity professionals'. As always, our vision for the event is to bring all elements of the community together with a focus on networking, knowledge sharing and showcasing the incredible talent that our industry has to offer.

The event will be a content driven day with a specially curated line up of subject matter experts presenting on current trends, predictions and innovation in the field from both commercial and academic perspectives, as well as practical advice on dealing with current issues and developing the professionals the future. It will bring all corners of the community together combining perspectives for all practitioners across commercial, public and law enforcement communities. We have an agenda to reflect this with exceptional speakers meaning there is something at CIISec Live for everyone!
Time

All Day (Wednesday) GMT
Location

Manchester City Football Club

Etihad Stadium, Ashton New Road Manchester, M11 3FF United Kingdom