05sep9:30 am3:00 pmEdinburgh SASIG: Future-Proofing Technology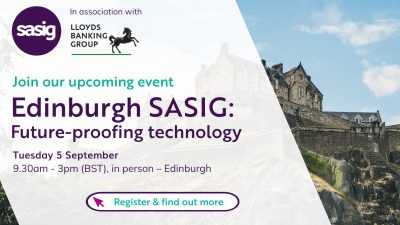 Event Details

We are delighted to be hosted by Lloyds Banking Group for our third Edinburgh event of the year. Technology is in the news more than usual, with much media attention on apocalyptic visions of a world dominated by artificial intelligence. We hope to dispel some myths and focus on AI's real potential as an agent of change, particularly in cyber. But, despite the hyperbole, AI is only part of the picture. We still face threats from bad actors through theft, extortion, and sabotage. So how do we continue to improve the resilience of our businesses to meet these challenges in the technical and human space?

We look at the future of SOCs, the government's evolving approach to Protect and Prepare, improving our people's awareness and how we can attract and retain diverse talent into our sector. Last, but by no means least, how we can avoid a tragic bifurcation in our society between those who have access to tech and those who cannot afford to.

As with all our Edinburgh events, we invite and encourage as wide an audience as possible to attend. Whether you are a casual consumer or have a deep technical background and carry responsibility for your organisation's policy of resilience, and whether you are an enthusiastic advocate of technology's continuing evolution or a sceptic with concerns about its unintended consequences for society, please join us.
Time

(Tuesday) 9:30 am - 3:00 pm BST
Organizer