20junAll Day22Infosecurity Europe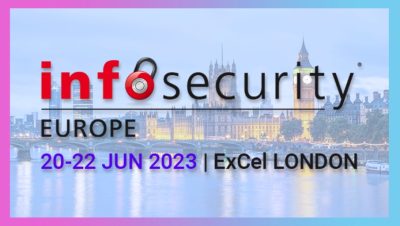 Event Details

Everyone and Everything You Need to Know in Information Security

Infosecurity Europe keeps you connected with everyone in information security. The brightest minds, from engineers to innovators. We keep you up to date on everything about information security. From the past, challenges we've overcome and battles we've won to the present. How information security moved from the back rooms to the boardrooms. We shed light on the future. The advances and innovations.  Join us as we rethink the power of infosecurity and discover what that may mean to you.

Threats to cybersecurity are in the limelight like never before. That's why we're dedicated to bringing together the community – not just the technology, but the people too, with the ideas, resilience and the will to protect our shared future.

Only by working together, can we keep our world safe and help unlock the true potential technology promises.

Infosecurity Europe is the biggest gathering of the information security industry in Europe. Each year, we bring the community together to share innovation, learn from each other, test and benchmark solutions, build relationships drive new business and connect with colleagues.

The leading suppliers choose Infosecurity Europe as an opportunity to launch new technologies, products and services. It's a vital resource for senior buyers to make key investment decisions and every stakeholder comes for the insight necessary to stay ahead in cybersecurity's rapidly evolving game. If you're in the industry, you'll want to be here.
Time

june 20 (Tuesday) - 22 (Thursday) BST
Location

ExCel London

One Western Gateway, Royal Victoria Dock London, E16 1XL United Kingdom