13octAll Day15Tech Inclusion 2020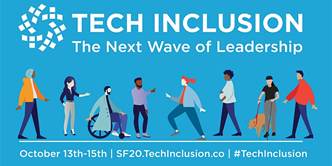 Event Details

The next wave of tech talent is here! Come join us for our 6th Annual Tech Inclusion Conference & Career Fair!

Tech Inclusion 2020 will focus on the next wave of tech talent: one that is intersectionally diverse, radically inclusive, highly skilled technically, emotionally intelligent, and practices allied leadership.

Tech Inclusion is a place to grow technical and leadership skills. A place to meet underrepresented leaders in tech, learn industry trends and see innovative demonstrations. And a place to connect with coaches and mentors, gain allyship skills, learn how to create inclusive teams, and build inclusive cultures.
Time

october 13 (Tuesday) - 15 (Thursday)
Organizer