Check out this diary account from our Head of Operations and Skills, Nicola Taylor, covering a busy five days of events last week.
What a week! Or should I say what a fantastic week!  
If I was to sit here and write that I was not totally exhausted that would be a lie, but I can honestly say that every hour of lost sleep this last week has been worth it.
We are fortunate at ScotlandIS to have a great team working for us, but what shines through in busy weeks like this is not only their incredible work ethic and ability to rally when the time comes, but the passion that we all share for making change in the sector on behalf of our members. It is that passion that drives us in weeks like this when a busy schedule is on the agenda. A spotlight moment for Cat Blair, our Events Producer, who really does the bulk of the heavy lifting on weeks like this. 
Monday
Monday saw myself and our CyberScotland Week Co-ordinator, Fiona Thomson, attend the first in-person (Hybrid) DSEG Cyber Skills Work Stream meeting, which was held in the beautifully refurbished Skills Development Scotland Offices. We were there to discuss all things CyberScotland Week and to let the attendees know what is planned so far and how they can get involved and host their own events too.  We also heard updates on the CyberScotland Partnership, Scottish Business Resilience Centre, and had a very informative update from Ryan Watson from BJSS about the Cyber Skills talent shortage. It is always great to spend the afternoon with like-minded people who are working toward the same goals. 
Tuesday
Tuesday took Fiona Thomson to her local church to present on the importance of Internet Safety to the Woman's Guild group, a session that went down so well that they have requested a follow-up event to take place during CyberScotland Week 2023.
Well done Fiona!  
I was headed to Edinburgh on Tuesday to celebrate the graduation of our hugely talented Marketing Activity Lead, Joanne Mills, who, after completing her inspiring group challenge, was presented with her completion Certificate from "Empowering Women to Lead in Digital Transformation". We are so proud of Joanne for taking on the course at a time when her workload is bursting at the seams and for not only completing the course but excelling at it.  As a graduate from the first Empowering You cohort, I was delighted (and terrified, I hate public speaking) to be asked to provide the opening welcome; it was an honour to get to share my reflections of my time on the course and how I still use the lessons learned in my current role with the new graduates.
We were both lucky enough to be asked to attend the Scotland Women in Technology dinner held at Our Dynamic Earth that evening; a huge congratulations to Silka Patel and the rest of the SWiT team for a fantastic event.
We were delighted to hear that the ever-popular SWiT awards will return next year – I can already tell that the judges will have a difficult challenge choosing the winners as, looking round the room, it was incredible to see so many of the rising number of Women in Tech who inspire me to be better and do more every day. 
Wednesday
Wednesday took us to Abertay's cyberQuarter, our gracious hosts for Day 1 of our Cyber Runway Scotland event, aimed at Cyber Start-ups. Companies from across Scotland joined us on the day; our morning session covered Business Health where even traffic delays could not derail our plans and thanks to the wonders of modern technology, our first Speaker Ciara McGovern from HR Dept joined us virtually for her session on scaling teams and building culture. Steve McNally made his speaking debut (you would never have known, he's a born natural) and discussed the importance of recruitment and retention even at the early stages of business. The session closed with a talk from Andrew Wolffe from Genoa Black, who spoke to the attendees about thinking beyond our logo to ensure that it reflects the business personality.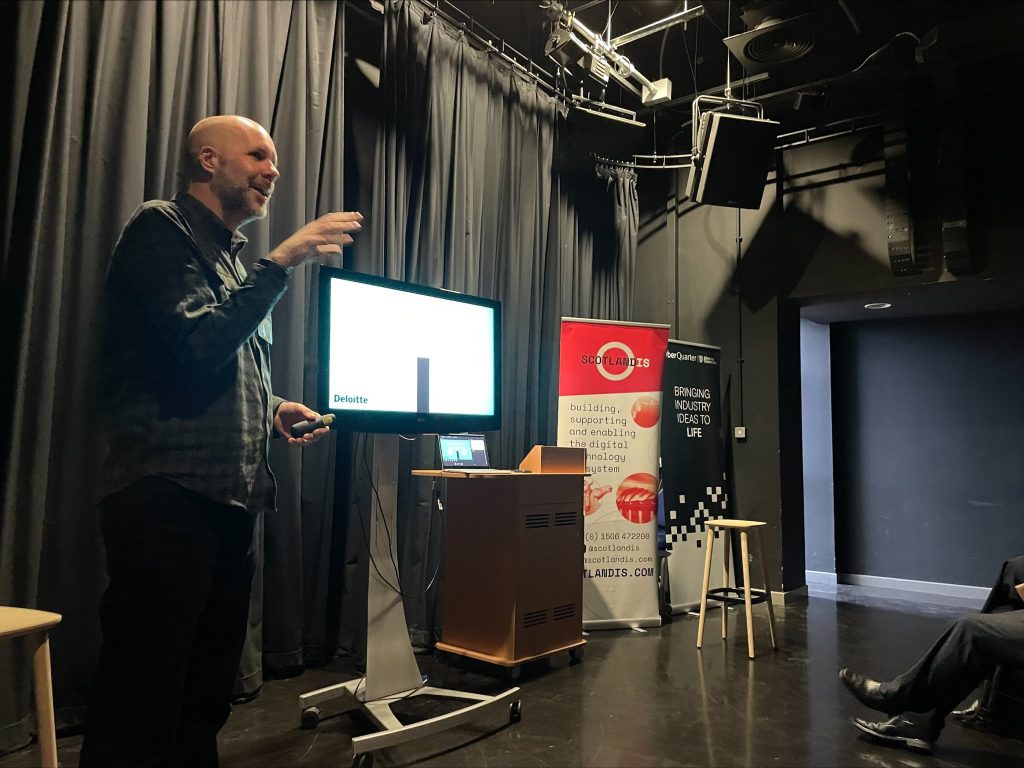 Our mid-morning talk was an interactive session provided by the captivating Adrian Taylor from Deloitte who discussed the importance of understanding business and stakeholder empathy. Lots of questions were asked throughout the session and it was great to see the attendees really engage. After lunch we were joined by ScotlandIS' very own David Ferguson and John Murdoch from Celerity, who talked about the cyber opportunities within the space sector, and the day closed out with an informative talk from Robert Hayes of Hayes Consulting. What a truly informative and inspiring talk he gave about the "Road to Success".
We built in plenty of breaks for networking throughout the day and it was wonderful to see those slots made use of, there was a real energy in the room all day.
If that was not enough, we also offered one last chance for our Cyber Showcase cohort to meet with Greg Summers, who had mentored them throughout the programme on presentation skills.  A huge thanks to Greg for coming up to Dundee and giving the cohort one last opportunity to tweak and change their pitches for the next day. 
Thursday
Which brings us to Thursday, the FIRST EVER ScotlandIS Cyber Showcase, which formed Day 2 of Cyber Runway. The stars of the show were our cohort of 12 of Scotland's most exciting and innovative cyber start-ups.
The UK's cyber security industry is now worth an estimated £8.3 billion, with total revenues in the sector up 46% from £5.7 billion in 2017. The sector has seen significant growth in annual revenue and employment, as well as considerable investment in early-stage companies. However, investment stats in Scotland do not reflect that and currently only 0.6% of investment into cyber security firms reaches Scotland. Here at ScotlandIS, we wanted to reshape that narrative and are proud to have hosted the Scotlandis Cyber Showcase.
We were delighted to be joined again by Adrian Taylor from Deloitte who offered one-to-one coaching/mentoring sessions to some of the cyber startup companies who attended on the day. The feedback was that they all found the sessions to be helpful.
A special mention to Arutyun Arutyunyan, from Plexal, without whom the regional Cyber Runway events would not be possible, as well as colleagues from DCMS who fund the Cyber Runway programme. We appreciate you making the journey to attend both of the events and for joining us at the Scottish Cyber Awards dinner.
I want to take a moment to thank everyone who helped bring this event to life, firstly our partners: HNH, Scottish Edge, Plexal, Cyber Runway, UKC3, Edinburgh Innovations, Genoa Black and Osney Capital. Also to our sponsors, Quorum Cyber and Davidson Chalmers Stewart, and our lead sponsor Beyond Blue. A special mention to David Ferbrache, Managing Director, who although could not join us on the day was kind enough to show his support with a video that was shared with everyone at the event.
A special mention to our former Head of Cyber, Ciara Mitchell, who was instrumental in getting this programme off the ground, and Joanna Goddard for the support she has provided to ScotlandIS in pulling the event together.
We put our cohort through their paces in an incredibly short time period, they attended a 6-week programme of workshops which culminated in the chance to pitch to investors and industry at Thursday's Cyber Showcase.
It has been a privilege to share a part of this journey with them and I am grateful that I have been able to watch them grow in confidence and not only deliver, but deliver exceptional pitches on the day.
Now's a good time to say thank you to our incredible panel who joined us on the day, comprised of serial entrepreneur and Angel investor, Peter Jaco, a cyber security specialist with a portfolio of roles within financial institutions such as HSBC and Virgin Money (and fast becoming my favourite person to get a selfie with), Elaine McKechnie, and Joshua Walter, partner at Osney Capital, whose company we also had the pleasure of at the Scottish Cyber Awards dinner later that evening. It's fair to say that I am glad I was not in their shoes when it came time to choosing who would win the two awards that were up for grabs on the day, Best Pitch and Most Innovative.
Same time next year guys?
So, onto the event itself – we were lucky to be hosted by Ruairidh Henderson and the team at the Higgs Centre at the Royal Observatory, which created the ultimate backdrop for the day. The sign of a great view is when it looks just as good in the sunshine as it does in the rain, and having experienced both weather conditions over the course of the day, I can confirm that the view at the top floor of the Higgs Centre does just that – breathtaking!  
Up first to pitch was Irene Coyle from OSP Cyber Academy. Irene is fast becoming one of Women In Cyber's go-to ladies, and set the standard high for the rest of the cohort to follow. Next, we heard from Alexander Chow from Polydigi Tech who, it was clear to see, is passionate about his company and rightly so! He was followed by Iain Johnston from Blackwired who pitched like a pro, not a nerve in sight, and our last pitch of this session took place virtually with Colin Campbell from Nectis who, despite some technical glitches, was completely unnerved.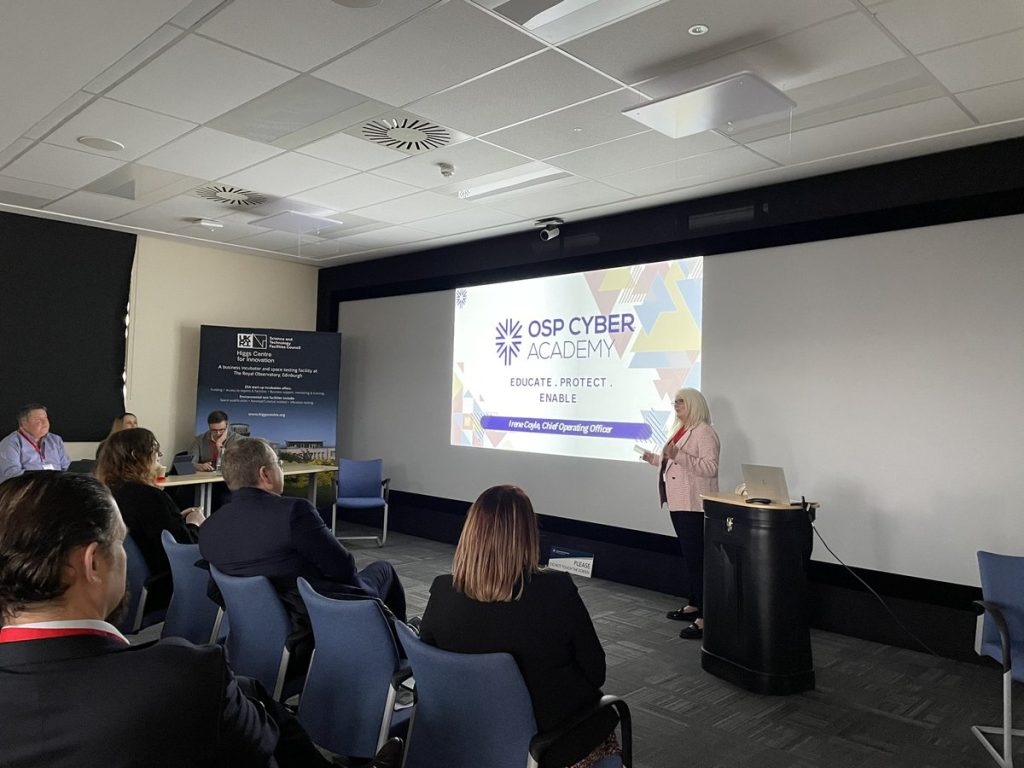 Our second set of pitches started with Mark Lamb from Highground, a confident pitch with well answered questions. Dr Mick O'Connor from HAELO came next, a born natural at public speaking. He was followed by the charismatic Robert Dewar from Dewar Cyber Consulting, and the session closed with Robbie Binnie from Lupovis, who was completely unphased by some of the tricky questions that came from the panel.
Our last session of the day saw us hear from Dr Tayabba Nafees of CyberShell Solutions – it's safe to say the session was kicked off with a bang. She was followed by Dr Nanik Ramchandani who was pitching for LastingAsset, who had the crowd eating out of the palm of his hand. Next up was Pavlos Papadopoulos of TrueDeploy, who would later go on to win one of the three Scottish Cyber Awards that he was shortlisted for. Our final pitch of the day was from Callum Wilson of SafeShark, who gave us an interactive pitch where we got to see and feel the product.
As I said earlier, I was glad not to be the one making the decision on who should take home the awards for Best Pitch and Most Innovative.
Whilst the panellists deliberated, the attendees were treated to an inspiring talk from Mark Robinson from deltaDNA, who spoke to us about the Investors journey and gave us his Top Tips. A huge thank you to Mark for taking the time to do that, Tip 11 was definitely the one I could relate to most!
So, who were the winners on the day? Well if you ask me all 12 participating startups were winners, for their outstanding pitches and commitment to the programme, as well as everyone in that room who got the opportunity to hear from these great companies, and the Scottish Cyber Community as a whole who always strive to support one another for the greater economic growth of the sector. (Told you it was a good job I wasn't making the decision!)
And the winners were:
Most Innovative – CyberShell Solutions
Best Pitch – Robbie Binnie, Lupovis
Congratulations again to both, and congratulations to all 12 companies for a job not well done, but exceptionally done.
Time for bed, right?
Wrong!
The day ended with the Cyber Awards where ScotlandIS were up for the Diversity Champion Award (spoiler alert: we did not win but are delighted that Empowering You, the programme that we are huge supporters of, took home the prize! Well done again to Steve Cliff, Chris Woodcock and the rest of the team – keep up the good work!).
We were pleased to host two tables and be joined by ScotlandIS members, some members of the Cyber Showcase cohort, some of the event sponsors, and one of our panellists.   
Friday
I finish the week – tired (I think you'd have to be a robot not to be after a week like that), but mostly excited, excited about our sector and what happens next.
ScotlandIS have a lot of irons in the fire at the moment, some of which you can hear about at our AGM which takes place on the 30th November (members only), but be sure to keep your eyes peeled as we have lots of exciting announcements coming over the next few weeks.
Did I say I love my job? I LOVE MY JOB!