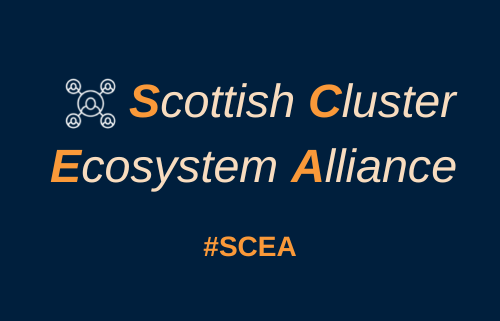 WHAT IS SCEA
The Scottish Cluster Ecosystem Alliance (SCEA) was set up by ScotlandIS to bring together representatives from across the tech sector such as fintech, space, mobility, cyber, data and many more.
OUR AIM
The aim of the SCEA is to connect cluster managers or other key sector representatives from across the tech sector to promote collaboration and knowledge exchange between these sectors. There are many great programmes and initiatives being supported and driven by these organisations and the sectors they represent; the SCEA will help ensure there is visibility across the many activities so that we can have a more joined-up approach and thereby deliver greater impact and outcomes across the tech sector.
Collectively, SCEA participants have a huge network of associated members and stakeholders, therefore there are also greater opportunities for sharing and cross-promoting activities and initiatives to our networks, to encourage increased engagement and participation from a wider section of the tech industry.
OUR MEMBERS