From climate to cyber, Scottish tech industry creates positive change
Unsung Hero Tommy Lawson works to tackle industry skills shortage
Hosted annually by ScotlandIS, this year's Digital Tech Award winners demonstrate a marked dedication to tackling societal challenges.
Across a number of the awards and runners-up, addressing climate change was a key theme. This year's awards introduced a Climate Champion award, which was snapped up by Clearview Intelligence for not only developing a strong climate strategy but also taking steps to deliver it.
Continuing on the climate theme, Start-up Business of the Year went to loveelectric, which is looking to make Electric Vehicle schemes more accessible to SMEs and their employees, while Tech for Good winner Good-Loop was recognised for its unique Green Ad Tag technology to track the carbon footprint of digital advertising and provide a path to offset it, through funding tree planting.
Celebrating the sector's thriving scale-ups, Barrier Networks was recognised as Scale-Up Business of the Year, for its innovative approach to cyber security to improve cyber resilience, an issue impacting more businesses and people in Scotland than ever.
And as ScotlandIS' latest technology industry survey showed that the talent shortage continues to threaten the sector's success, Edinburgh based Tommy Lawson was awarded Unsung Hero for his passion for teaching and supporting the industry's future talent.
Karen Meechan, CEO of ScotlandIS said: "Each year we host these awards, the competition is fierce, and I'd like to congratulate our winners and runners-up on what was a challenging year for our judges.
"It's particularly heartening to see how much the sector is contributing not only to the industry – with companies like Fyne Labs and FarrPoint – but also how the industry is championing issues that impact our every day lives, with creative and impactful solutions to parts of the climate crisis straight through to cyber security."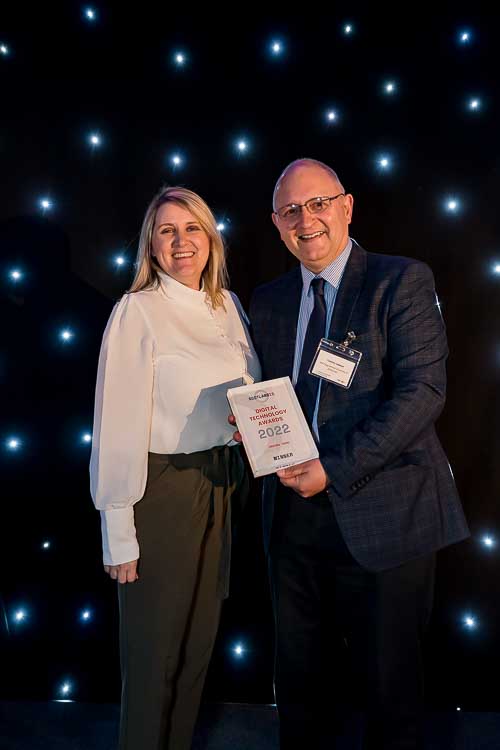 "I'd like to send special congratulations to this year's Unsung Hero, Tommy Lawson, whose breadth and depth of knowledge, and ability to communicate to his students, shone through in his application – as did the respect and admiration his peers have for him. Talent is an ongoing challenge for our industry and it's important to recognise the real champions we have working to inspire the next generation." 
Tommy Lawson, Schools Technology Advisor for Data Education for Schools, a partner with Edinburgh University, and winner of the Unsung Hero award, added: "It's an honour to be recognised at the Digital Technology Awards, and I'm really grateful to the colleagues who nominated me. Our future digital talent is so important and I'm delighted to support them at the very beginning of what is an exciting career journey." 
The full list of Scottish Digital Technology Award winners for 2022 is:
Product/ Service Innovation: QueryClick
Climate Champion: Clearview Intelligence
Tech for Good: Good-Loop
Open-Source Contribution: Fyne Labs
Data Trailblazer: FarrPoint
Public Sector Innovation: iOpt Limited
Digital Tech Business of the Year – Start-up: loveelectric
Digital Tech Business of the Year – Scale-up: Barrier Networks
Digital Tech Business of the Year – Enterprise: xDesign
Best Workplace of the Year: Appetite for Business
Unsung Hero Award: Tommy Lawson
The awards ceremony was held at the Radisson Blu in Glasgow yesterday evening (12th May), supported by headline sponsor Addleshaw Goddard.