Read this recap of our Cyber Runway Scotland event from Head of ScotlandIS Cyber, Ciara Mitchell.
Cyber Runway Scotland, held on February 8th and 9th, was our first in-person, cyber cluster event in over two years and it was great to return with such an amazing programme of speakers, delivered in partnership with Cyber Runway and Plexal.
Cyber Runway is a UK-wide programme which supports the growth and development of early concept, start-ups and scale-ups across the three programmes they currently run. The regional events, of which there were four across the UK, complemented this programme and also allowed additional start-ups to get involved in a two-day event focussed on growth and innovation, learning and insights as well as lots of networking and good conversations along the way.
Day 1 of Cyber Runway Scotland was held in Dundee and ran in partnership with Abertay University Cyber Quarter. This included a virtual tour of the Cyber Quarter, a very exciting project for Abertay and the wider cyber community. We had presentations on PR, investment, and pitching, as well as a workshop on strategy led by Joe Trodden. We also wanted to include a focus on local cross-sector opportunities so had talks on the gaming sector, S5GConnect hubs, and the challenges of securing the health industry. We wrapped the day up with local entrepreneur, Chris Martin, CEO of Waracle talking us through his many adventures along his impressive career path. Our friends at Checkpoint then treated the attendees to some refreshment and food at a great venue in Dundee. That was the first event that the cyber cluster has run in Dundee and we will be back for more!
Day 2 was at the Technology Innovation Centre in Glasgow and we had a more international focus on the wider sector that day. The Department of International Trade (DIT) and Scottish Development International (SDI) talked through the many offerings that they have in place for supporting companies to start their journey to expand internationally. We gained real world insight and advice relating to building partnerships from a discussion panel comprising Helena Brown (Addleshaw Goddard), Ian McGowan (Barrier Networks), Gordon Scobbie (Securium) and Steve McKee (Cisco) which included a lively Q&A session. We also had Matt Little (Blue Ocean Insights, ex-CTO of Zonefox) give us his key tips and takeaways for scaling businesses, with great examples from his own vast experience. We heard from Deloitte on the future of cyber security and from Perspective Economics on the growth of the UK Cyber Sector and how Scotland is doing in comparison. We rounded up the day with plenty of time for networking with a number of our start-ups also having an opportunity for 1-1 mentoring with Deloitte.
Being back in person was amazing and seeing the energy and the conversations flowing was just great. I was hearing of so many follow-up meetings being arranged, and I have a long list of introductions to make to various speakers on the back of the event!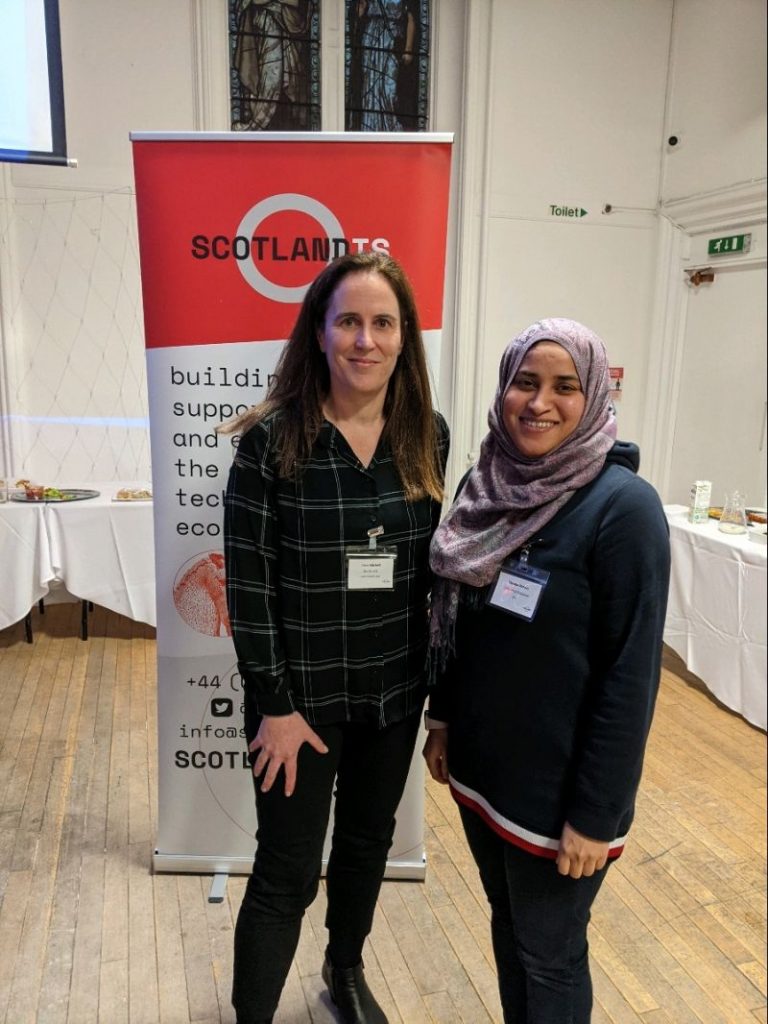 For me, it really brought home the important role that the cluster can play in facilitating these sorts of events. We know the local cyber community, we understand their needs and challenges, and so can provide tailored content for the attendees. We can bring along other tech clusters and sectors such as gaming and 5G to highlight cross-sector opportunities for the cyber communities, and we are well positioned to work with the UK-wide cyber sector to help connect the Scottish community to the wider ecosystem through our relationships with Plexal, DIT, DCMS and others.
We had 20 cyber start-ups and SMEs participate across the two days, with the majority attending both days. The feedback and response from both speakers and attendees has been great. We are already planning for our next start-up focussed events so watch this space and keep an eye on our event page so you don't miss out.

Hope to see many of you during Cyber Scotland Week and also at ScotlandIS' Cluster Ecosystem Conference on March 22nd.