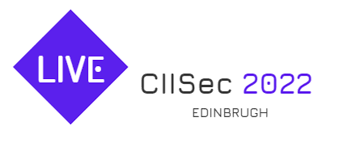 Event Details

We are thrilled to announce that CIISec Live will make a comeback as a physical event on the 7th of September 2022.

This year the event will be situated at Edinburgh Napier University and will take on the overarching thematic of 'inspiring the next generation of cybersecurity professionals'. This concept along with the event being positioned at Edinburgh Napier really aligns with their values of nurturing talent and creating knowledge for shaping communities all around the world.

Our vision for the event is to bring the community together and focus on the networking and knowledge sharing aspect of the incredible talent our industry has to offer. This is the first time CIISec Live is situated in Scotland which will really allow delegates and exhibitors alike to harness Scottish connections and to build new relationships within the Scottish Community.

The 7th September will be a content driven day with an array of subject matter experts presenting on current trends in the field, the corporate perspective, an academic standpoint on how to prepare for the profession, as well as incorporating a law enforcement element for our ICDIP members with content from the National Crime Agency (NCA).
Time

All Day (Wednesday) BST
Location

Edinburgh Napier University, Craiglockhart Campus

219 Colinton Road, Craiglockhart, Edinburgh, EH14 1DJ
Organizer
Chartered Institute of Information Security (CIISec)