29augAll Day01sepNeurodiverse Women and Non-Binary Persons in Data Science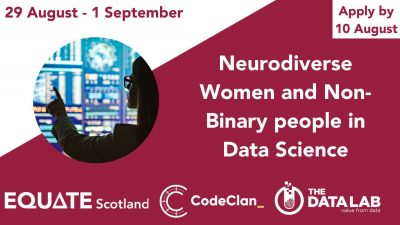 Event Details

Equate Scotland in collaboration with The Data Lab and CodeClan have developed a 3.5 day online experiential learning event aimed at neurodivergent women and non-binary people (people with autism, ADHD, dyslexia, dyspraxia, or other forms of neurodivergence) looking to upskill or reskill in Data Science. If you identify as neurodivergent or prefer learning at your own place, then you are eligible for this course. 

The course has been tailored to suit the learning needs of neurodivergent individuals to ensure we provide the best learning experience possible and will provide an introduction to different data science skills and programmes. Please let us know how we can support your learning and we will do our best to accommodate this.  

If you are a woman or non-binary person at college or university, a career changer, or a STEM professional with an interest in learning key Data Science skills, then this opportunity is for you. 

Attendance on this course will increase your awareness and understanding of data science by developing and enhancing your skills and abilities to allow you to apply ground-breaking data science in the real world.  

No previous knowledge or experience of data science is required in order to complete the course. Join us on this virtual live experiential learning course to demystify data! 

Places on this online course are free but spaces are limited, registrations will close at 5pm, 10 August 2022.

We shortlist applications and award places based on the information provided in your application form – find out more via the 'Learn More' link below.
Time

August 29 (Monday) - September 1 (Thursday) BST
Organizer