David Colombo, age 21, made international headlines last year by remotely hacking into over 25 Tesla automobiles
Colombo will deliver a keynote speech at the tech sector's leading CPD-qualified ScotSoft event and pay a visit to students at Edinburgh Napier University 
Scotland's leading CPD-qualified technology conference, ScotSoft, has announced David Colombo as a keynote speaker.
The conference, run by Scotland's tech trade body and cluster management organisation, ScotlandIS, will welcome one of the world's youngest cyber security experts to Edinburgh for his first UK speaking appearance, to inspire Scotland's emerging talent and sector veterans alike.
Colombo rose to international fame in early 2022 when he divulged that he hacked into over 25 Tesla automobiles after detecting a security issue. He could remotely access several features including unlocking doors and windows and starting keyless driving, and subsequently highlighted these security vulnerabilities to Tesla.
Taking place at the Edinburgh International Conference Centre (EICC) on Thursday 28th September, David's keynote will discuss the global cyber skills shortage, demonstrate critical vulnerabilities in our evolving smart infrastructure, and look ahead to imminent cyber security challenges.  
David Colombo, founder and CEO of Colombo Technology, said: "In the rapidly evolving world of cyber security, it's crucial to continue advancing our understanding and techniques while upholding the highest standards of ethical conduct and legality. I'm looking forward to sharing my perspectives with this year's ScotSoft delegates."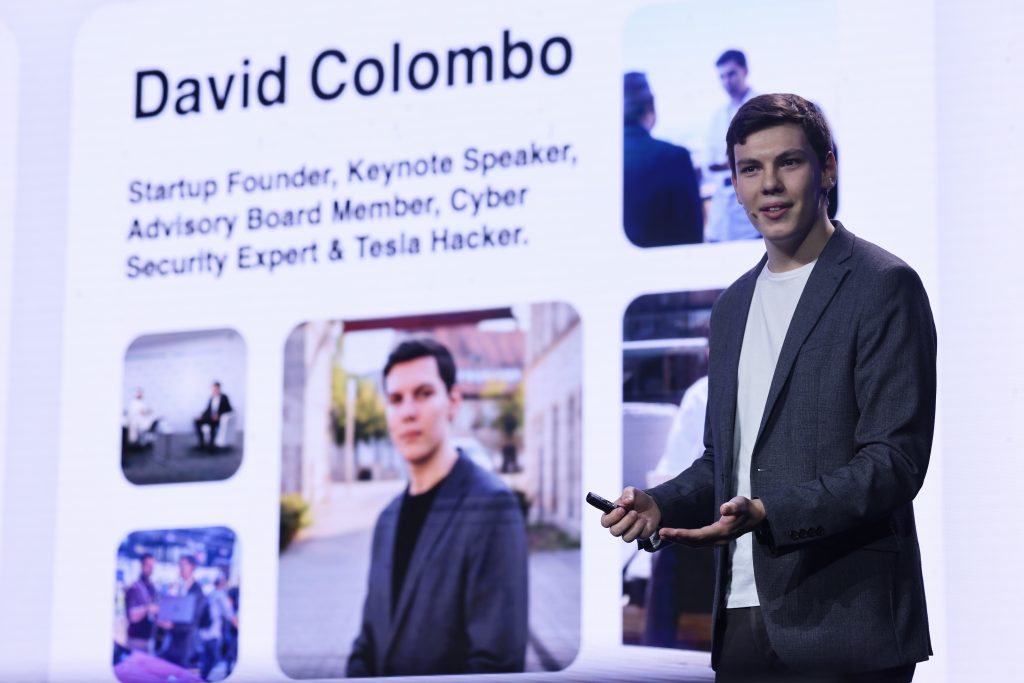 Karen Meechan, CEO of ScotlandIS, added: "Each year we seek to build on previous successes at ScotSoft. This year's conference will be one of the most exciting yet, first with our new CPD accreditation and now with another noteworthy keynote speaker.
"David is a really inspiring young leader, both for burgeoning new talent as well as for longstanding industry experts, and his talk is sure to provide insights that will linger in the minds of this year's delegates."
David started coding at 10 years old and developed an interest in cyber security at the age of 13. He left school not long after, at 15, after gaining special permission from the German Chamber of Commerce and went on to launch his cyber security company, Colombo Technology, at age 17.
In line with his enthusiasm for encouraging young talent into the industry, he will spend the days leading up to ScotSoft participating in a number of activities to engage with young talent. This includes visiting Edinburgh Napier University to talk to students about his experiences as an ethical hacker, and to share insight into the upcoming cyber threats society faces.
David said: "Connecting with other young tech talent is a strong passion of mine and I am looking forward to meeting some of Scotland's students to share my own story and what I've learned so far with them. I am very grateful to ScotlandIS for enabling these opportunities during my visit to Scotland, out of their clear commitment to supporting young people into an exciting tech career."
David has become a well-known figure in the international tech industry after publishing globally recognised security research, known as the "Tesla Hack", which explores the risks and flaws of the security technology being adopted by the automotive industry. As well as running his company, David consults with CISOs, startups, and Governments. 
Book your tickets for ScotSoft 2023, Scotland's leading tech conference, here.