Last week saw our first in-person Tech Trends events in three years, and it's safe to say everyone was delighted to be back.
Three fantastic sessions across Edinburgh, Glasgow and Aberdeen saw tech and innovation expert, the brilliant Richard Marshall, running through his predictions for the top upcoming trends in technology for 2023.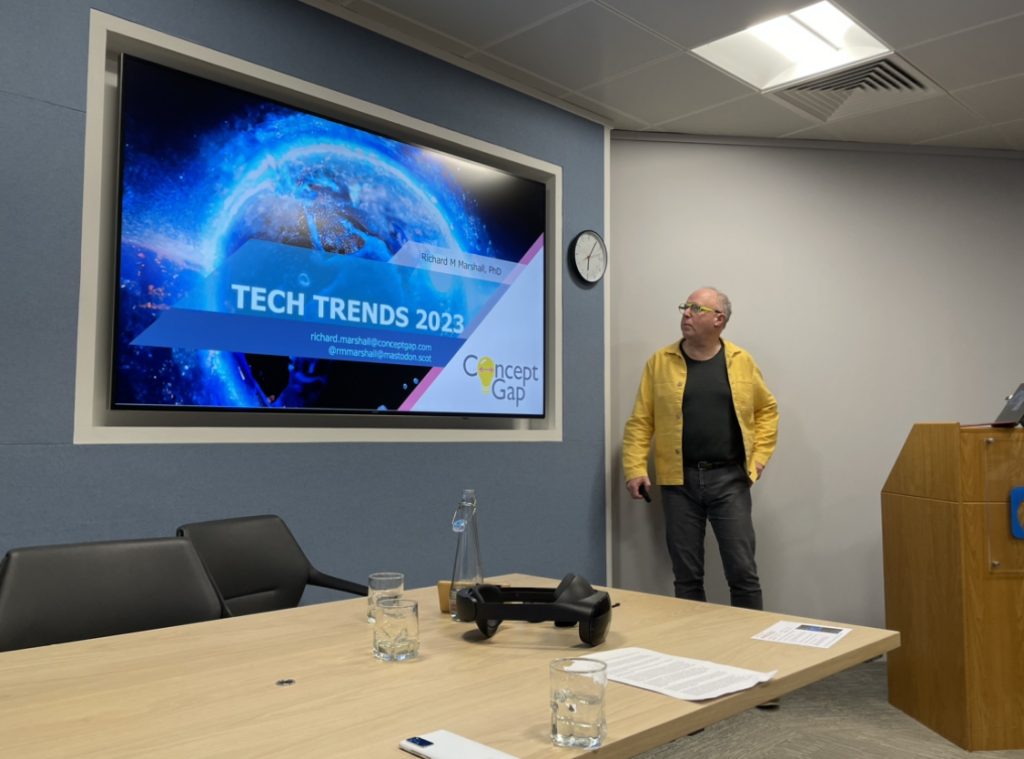 'Sustainable' is the key word for the next 12 months. Richard opened with this declaration which, in true Tech Trends form, will be revisited next year to evaluate the extent to which the statement has proved to be accurate.
While some may have expected the list of trends to include 'crazes' such as cryptocurrency, NFTs or the metaverse, Richard wasted no time in putting paid to this. As he described it, these 'new' technologies have in fact been around for a long time in different forms and ideas, and so far there are not many clear advantages to everyday businesses in implementing these.
So…
The first trend Richard kicked off with was Space. This month saw the first attempted UK satellite launch and with three of our own space ports in Scotland, we could host the first successful launch as early as October. The sector holds huge potential, due to the vast capabilities that space tech covers, with environmental and financial benefits. Now that you can buy standardised parts, costs have reduced dramatically and it's become commercially viable to launch satellites, while the number of applications of space tech and opportunities in the sector has exploded. This is one to watch.
The next trend, focusing on Artificial Intelligence, quite frankly left the audience unsure whether we should be amazed or terrified. According to Richard, AI is only getting better and better; while it can still be slightly clunky in applications, it is rapidly improving. Generative AI can be used in creating text, creating images from prompts, and programming code, with future uses looking to generate music and video. While the ethical issues surrounding artificial intelligence such as bias, deepfakes and lack of auditability remain, AI is likely to become a core architectural component to technology.
Work environments are changing! We've all experienced this following the pandemic, but additionally, as Richard puts it: "Awareness of bad management is growing." Working structures have shifted but so to have attitudes, and what conditions employees are willing to accept. With asynchronous work reinventing the workplace, enabling new approaches for collaboration and productivity, a recognition of toxic management practices and need for true employee wellbeing is also taking centre stage.
Managed Services are having a renaissance, with increasingly more businesses beginning to place greater trust in outsourcing. This improves ability to access new approaches, without having to hire the specialist talent themselves, and allows them to focus on the core business. ScotlandIS is developing an IT Managed Services Cluster for these providers in Scotland, having recognised the importance they play in digital transformation. Additionally, ScotlandIS is working to create a Charter that sets out the values and standards expected of an IT MSP, to increase this trust and offer quality assured service.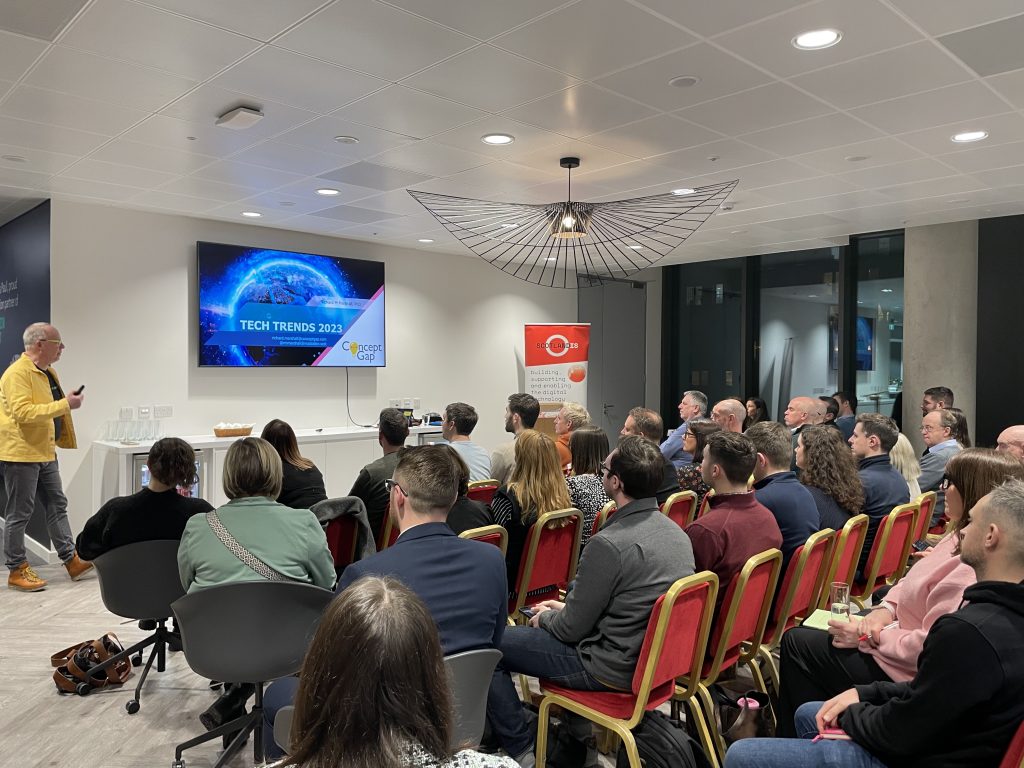 Richard highlights Resilience as a key component of technology in the coming year, driven by the insurmountable changing conditions faced over the past few years and that continue to impact us. "Agility builds resilience"; preparing for the unknown, as well as fast response and decision-making, is essential in being resilient. IT service risks have now changed, massive software failures are more likely to be what affects operations, as opposed to the risk of physical disasters – make no assumptions about availability of power. Preparing your staff is key in averting this.
Transparency within your organisations and systems will become a core requirement. Linking back to the previous trend, Richard stipulates that observability is essential for any production IT infrastructure to ensure resilience and rapid, reliable change. Ensure you know what applications you are running, and that documentation is up to date. Any artificial intelligence should be auditable to overcome doubts and be insurable. ESG data needs to be integrated into apps. "Continuous change continually challenges transparency" and that's what we must remain conscious of.
And lastly, 'Cool New Stuff' is the final trend that Richard introduced, highlighting some new and innovative areas of tech to watch including neuro-inclusive design, protection-level agreements, offline-reinforcement AI, healthtech such as remote monitoring and menopausal care, and limitations of cybersecurity insurance.
The session culminated with a look back at last year's Trends, to see how Richard's predictions held up in 2022. While 'Web without Cookies' was a bit of a pipe dream, and 'Asynchronous Work' and '15 Minute Cities' are still to fully develop, others including 'Specialist Processors' (such as embedding sustainability), 'Low/No Code Development' and 'Carbon Counting in Technology' have taken off.
Thank you to everyone that came along to Tech Trends 2023, and we hope you enjoyed it as much as we did. Thank you also to DLA Piper, Burness Paull and Pinsent Masons for returning to host our events, and a huge thank you to Richard Marshall as ever for his insights.
Let this inspire us for the coming year and meet back again next January to see what comes next!